F 16 Fighter Jet
The F16 fighter jet is also known as the Fighting Falcon. It can be described as a single-engine, single-seat jet fighter that is 49 feet long with a 31 feet wingspan. It was made for the United States alongside a dozen other countries. Originally, the F-16 jet was built and designed by General Dynamics, which is a part of Lockheed Martin. This incredible fighting jet is known for being able to fly at the speed of sound. When it comes to weaponry, it includes 20-mm rotary cannon along with attachments under the wings as well as fuselage for a variety of missiles and bombs.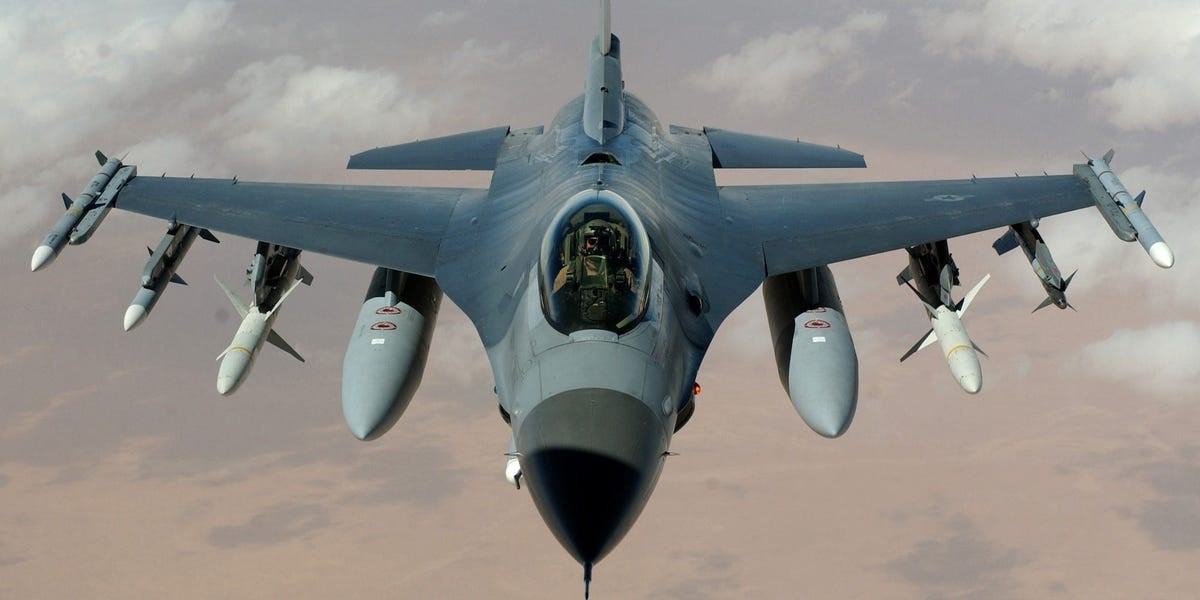 The fighter jet, with its typical combat load, weighs about 23,000 pounds. This weight is less than half that of the previous-generation F-4 Phantom II. In addition, the F-16's fuselage flares out as the juncture with aluminum alloy wings. As a result, it provides the aircraft with greater stability and lift at steep angles of attack. Moreover, it includes an extremely sophisticated bomb-aiming system that can allow ordinary "dumb" bombs to be dropped from low altitudes with precision and accuracy. 
Mission: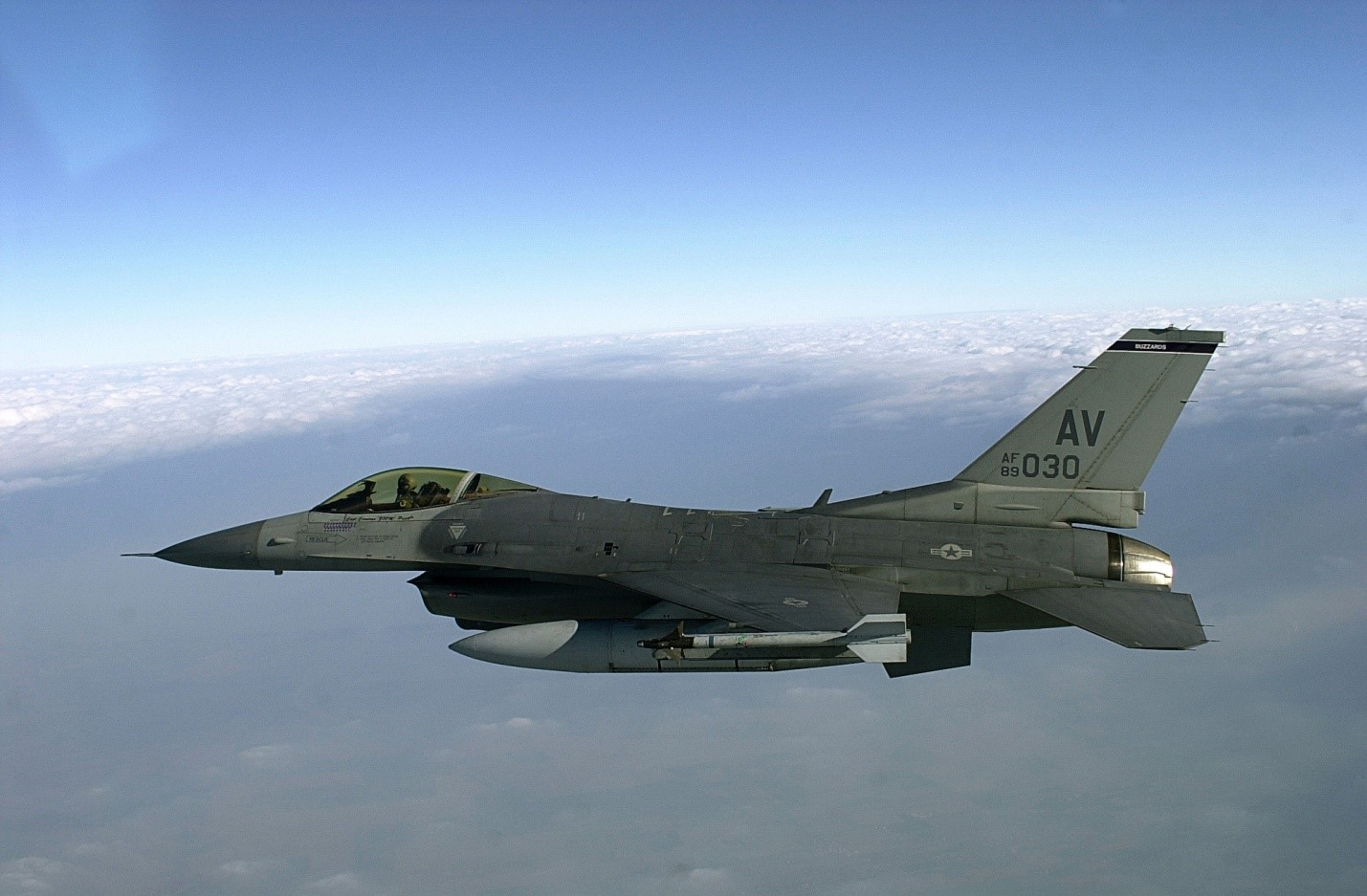 The F-16 fighting falcon jet is considered a multirole, compact fighter jet that is quite maneuverable and has also proven itself in air-to-surface and air-to-air attacks. Furthermore, it provides a comparatively high-performance, low-cost weapon system for the U.S. and other allied nations. Other than being a premier air-to-air combat platform, this fighting jet also performs an extremely important mission known as SEAD, which is short for Suppression of Enemy Air Defenses. This mission is also commonly called the Wild Weasel mission, and it is about entering the enemy's airspace early and destroying or disrupting their air defenses. 
Features:
The maneuverability and the combat radius of the F-16 in the air combat role are known for exceeding all the potential threats to fighter aircraft. The F-16 is designed to be capable of locating targets in any weather condition and detecting low-flying aircraft in radar ground clutter. In addition, in the role of air-to-surface, the fighting jet is capable of flying over 500 miles, delivering weapons with superior accuracy, defending itself against its enemy aircraft, and coming back to where it began. In case of non-visual bombing conditions, the fighter jet can deliver ordnance accurately thanks to its all-weather capability. 
In order to design the jet, the combination of advanced aerospace science along with proven reliable systems of well-known aircraft, including the F-111 and F-15, was chosen. They were used for simplifying the airplane and reducing its size, weight, maintenance cost, and purchase price. In addition, the fuselage's lightweight was achieved without having to reduce its strength. In case of a full load of internal fuel, the Fighting Falcon is able to withstand around nine G's (9 x the force of gravity), thereby exceeding the capability of any current fighter aircraft. 
Currently, the most advanced upgrade of the F-16 jet is the F-16 Block 70/72, as it incorporates new structural upgrades and capabilities to make sure the fighter can operate at least until 2060. This upgrade has the following features:
Advanced Radar:
The advanced APG 82 AESA radar by Northrop Grumman provides the jet with capabilities of the 5th Generation fighter radar by leveraging software and hardware commonality with F-22 and F-35 AESA radars. Moreover, the radar delivers flexibility, faster all-weather targeting, and greater situational awareness. It can also provide the pilot with unprecedented target area detail along with digital map displays that they can tailor with slew and zoom features.
More Safety: 
The more advanced technology does not only mean better fighting capabilities, but it also offers more security to the pilots. Short for the Automatic Ground Collision Avoidance System, the Auto CGAS was built for the purpose of preventing deadly crashes. According to the manufacturers, this feature has already been able to save the lives of numerous pilots. In addition, the Auto CGAS is created to reduce incidents of what's called controlled flight into terrain, or CFIT. As per the Air Force Statistics of the U.S., CFIT incidents can account for 26% of aircraft losses as well as a staggering 75% of all fatalities of F-16 pilots. 
Extended Structural Capabilities:
The current F-16 Block 70/72 provides a 12,000 hours industry-leading extended structural life. It is over 50% beyond the structural life of previous F-16 aircraft productions. In other words, this jet is extremely reliable and readily maintainable, offering at least 40 years of service life without any expected extended structural repair. In addition, an added range and increased fuel are provided by the comfort fuel tanks without having to sacrifice the jet's aerodynamic performance, alongside an improved performance engine. 
Unmatched Weapon Integration:
With over 36 years of experience in weapon integration, Lockheed Martin has made the F-16 fighter jet to be among the most versatile multirole fighters. The manufacturers proudly claim that this weapon integration experience is just unmatched.
In addition to the above-mentioned features, the cockpit and the bubble canopy provide the pilot with unobstructed upward and forward vision along with a well-improved vision to the rear and over the side. Furthermore, the gravity force tolerance and pilot comfort increased, expanding the seat-back angle from 13 degrees - which is usual - to 30 degrees. The pilot experiences exceptional flight control due to the fly-by-wire system of the F-16. In order to provide accurate and easy control during high G-force combat maneuvers, the manufacturers used a side stick controller rather than the conventional center-mounted stick. 
Avionics systems of the falcon jet include an extremely accurate enhanced global positioning along with an inertial navigation system, or ECG, which enables the computers to provide information to the pilot. Moreover, the plane is also believed to have VHF and UHF radios along with instrument landing systems. In addition, it includes a warning system alongside modular countermeasure pods so they can be used against surface and airborne threats. The fuselage includes enough space for the added avionics system. 
Background: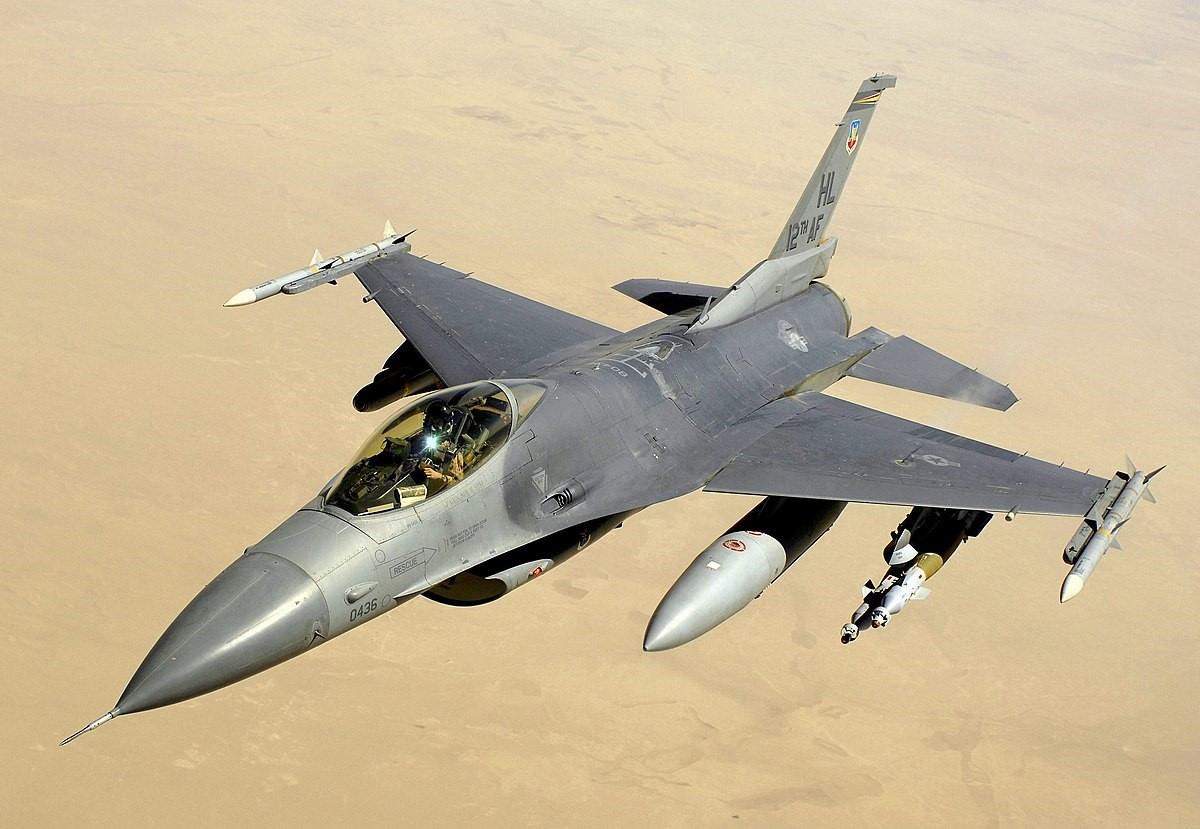 The first model was F-16A, which was a single-seat model, and it flew for the first time in December 1976. In January 1979, the first operational fighter jet F-16A was delivered at Hill Air Force Base, Utah, to the 388th Tactical Fighter Wing. 
The next is F-16B, which was designed to be a two-seat model featuring tandem cockpits that are pretty much the same size as the A model. The bubble canopy of this jet extended in order to cover the second cockpit. The avionics growth space and forward fuselage fuel tank were reduced to create more room for the second cockpit. 
All the F-16s that were delivered since November 1981 were known for having built-in wiring and provisions and systems architecture that permit multirole flexibility expansion to perform night attacks, beyond-visual-range interception missions, and precision strikes. The improvement program resulted in F-16C and F-16D aircraft. These are single-place and two-place counterparts of the F-16A/B. They are known for incorporating the latest display and cockpit control technology. 
What's more, the F-16 is known to have been designed under a unique agreement, thereby developing a consortium between the U.S. and four NATO countries, including Denmark, Norway, Netherlands, and Belgium. All these countries joined the U.S. to produce an initial 348 F-16s to facilitate their air forces. Portugal has also lately joined the consortium. This program has several long-term benefits, including the transfer of technology among the mentioned nations and an aircraft that would be commonly used for NATO nations. Due to this program, the availability and supply of repair parts increased in Europe, and the combat readiness of the F-16 also improved. 
In 1991, the multirole fighters of U.S. Air Force F-16 were deployed to the Persian Gulf to support Operation Desert Storm, which was known to have more sorties flown compared to any other aircraft. The fighters were used for attacking airfields, Scud missiles, military production facilities, and numerous other targets. 
The USAF Fighting Falcon is also known for flying a variety of missions during Operation Allied Force, including suppression of enemy air defense, defensive counter-air, offensive counter-air, and forward air controller missions. 
Since the historically devastating attack of September 11, 2001, the F-16 fighting falcon has been considered to be a primary component of the combat forces that are committed to fighting the war against terrorism, having thousands of sorties flown to support operations Noble Eagle (Homeland Defense), Iraqi Freedom, and Enduring Freedom of Afghanistan. 
FAQs: 
Why was the F-16 Fighting Falcon built? 
The F-16 fighting falcon was designed as a result of an order that was placed in 1972 regarding a cost-effective and lightweight air-to-air fighter. It is known to be conceived by a small yet vocal group of defense analysts and engineers called the Lightweight Fighter Mafia. Originally, this fighter jet was made as an alternative to fighter aircraft that had ended up being extremely unmaneuverable and heavy. The aerospace division of General Dynamics had a team that was responsible for designing a new sort of fighter jet that could meet the goals of the lightweight fighter mafia. Hence, they began trading additional weight as well as heavy payloads for maneuverability and speed in order to build an inexpensive and simple fighter it could fly and turn extremely fast and quickly, which would make it difficult for adversaries to strike using their machine gun fire or missiles. 
Are there any F-16 still flying? 
Although the U.S. Air Force no longer purchases the fighter jet, its improved versions are still being manufactured for export customers. The aircraft manufacturing business was sold by General Dynamics to the Lockheed Corporation, which became a part of Lockheed Martin. 
Recently, numerous officials of the Air Force had the opportunity of sharing their thoughts on the future of the F16 Fighting Falcon. The senior officials of the USAF stated that the F 16 jet fleet would continue to operate. In addition, the Fighting Falcon was also described by the USAF as a multi-role and compact fighter aircraft. Hence, it seems that the U.S. Air Force is looking forward to flying the fighting falcon for a long time and retiring several others to ration resources to have a combat-ready and combat-capable fleet. 
Is the F 16 still a good fighter jet? 
Despite the fact that the Fighting Falcon F 16 is about fifty years old, the USAF seems to be anticipating building it for quite a long time. That's because this jet is considered a cost-effective option that is proven to be pretty adaptive with steady updates. It is still considered a relevant fighting jet even though there are many other advanced options available. As per the USAF press release back in 2018, the F16 fighting jets will be kept flying until around 2050. 
How many F-16 does the USA have? 
Since the approval of its production occurred in 1976, more than 4,600 aircraft are known to have been made. As of today, this fighter jet is no longer purchased by the USAF. 
What jet is replacing the F-16? 
Initially, it was intended for the F-35 to act as a fifth-generation replacement for F 16. However, it was announced by the U.S. Air Force that there was a need for a new fighter jet that would be multi-use and replace the aging F-16 Fighting Falcon. It was also stressed that the new jet wouldn't be featuring the same technological prowess and high price tag as the F-35. 
About twenty years ago, the USAF planned the development of the successor of the F16. However, due to more cutting-edge technology that was poured into the program, it grew up to be quite expensive.
 F-16 Fighter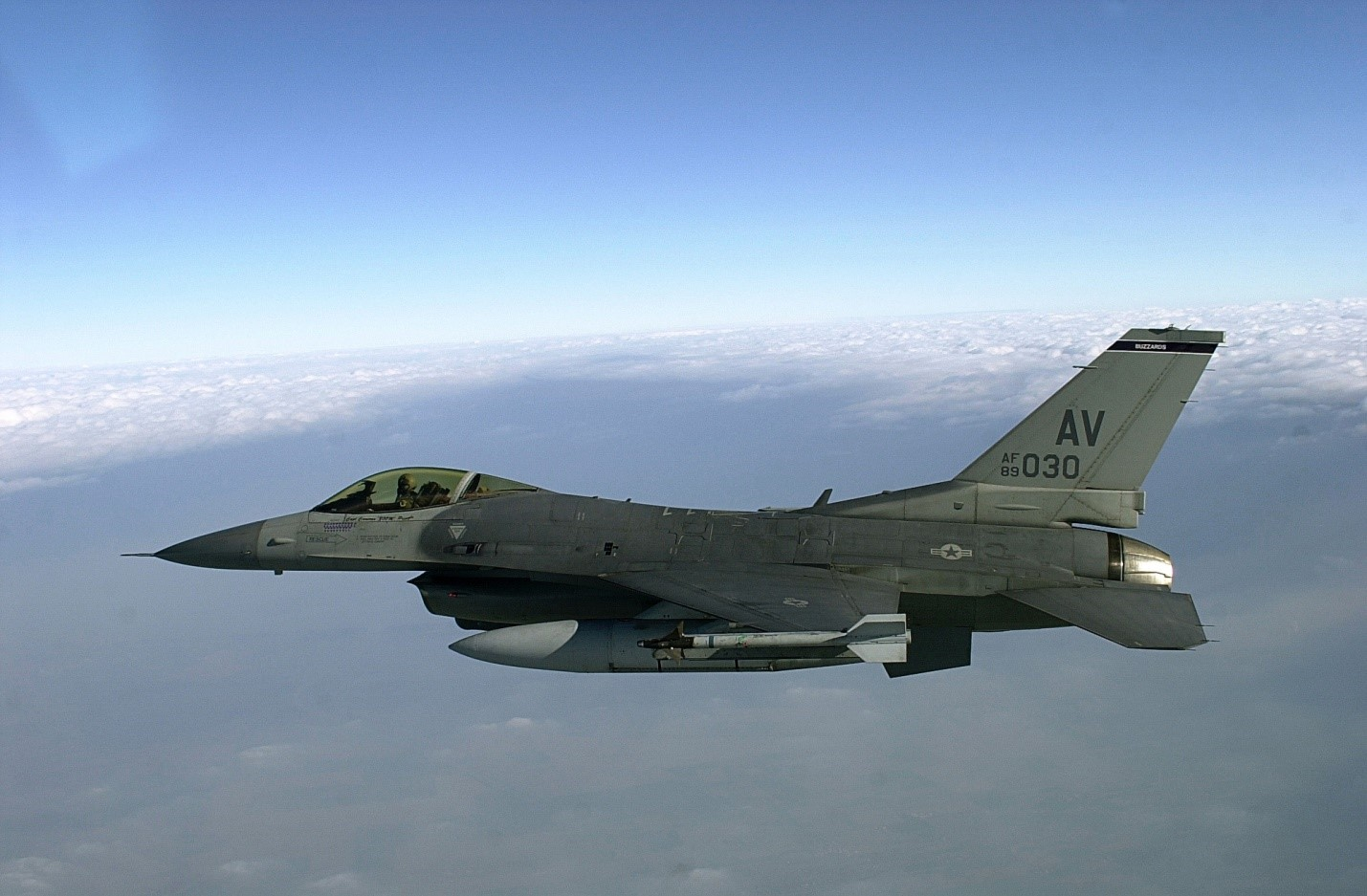 Airspeed Junkie: Custom Fighter Jet Gifts to Perform
 precision strike on your gift giving!
Add your comments based on experience:

Have you flown the precision strike F 16 for the Air Force?  We would love to hear you comments and information that would add value to the next generation of pilots.
Which Air National Guard Units Fly the F-16 Today:
Sioux Falls S.D.  
Madison Wisconsin  
Des Moines IA
Tulsa OK
Buckley AFB CO
Duluth MN