United Airlines Crew Bases
United airlines is one of the largest legacy airlines in the world. Their headquarters is at Willis Tower in Chicago Illinois. The airline has grown over the years by internal expansion in the airline industry but also by mergering and acquiring other airlines. United operates a large and diverse domestic and international route network.  Currently it is the third largest international airline in the world, with a wide variety of aircraft and flights. It is a powerhouse of a airline with a powerful route network and has lots of choices for domiciles, aircraft choices and destinations.  United airlines has eight passenger hubs with Chicago being the largest as well as offering a large number of flights. Being involved in aviation as a pilot or flight attendant, no matter what airport, is an exciting journey.
What are Domicile's
United Airline domiciles are simply crew bases in certain cities. It is the place in which United crews (flight attendants and commercial pilots) are based. No one flight attendant or pilot has multiple bases. You are assigned a base and you fly all of your trips out of that one base. You may go anywhere in the country but you will always start and end in your crew base. Some of United's bases are more senior than others and united airlines is no different from any other company.
Where should you pick as your crew base?
New hire crew members are given a crew base in the first week of class. Since you are new to the airline, you most likely will not be getting the cream of the crop as far as crew bases go. Generally most airlines have a "junior base" which is usually in the Northeast  or in larger cities. Probably the most important factor of a crew base is understanding that in the beginning you are going to go where they say to go. After you build up some seniority and as more crew members get hired, you can transfer from base to base. Cost of living is the driving factor of most crew bases and larger cities such as san francisco tend to cost more to live in. This brings us to the fact that most people usually end up staying where they live currently and commute into the crew base they are assigned.
What is Commuting?
Commuting is traveling on (your home airline) from your current living location to your crew base. You can also travel "offline" which is using another airline to commute to work.  This is more common in smaller towns or cities that United does not have a larger presence in.  Commuting in general, has its own set of challenges. Lets say you live in Houston but your crew base is in Newark.  This means you have to get on a plane and fly to your crew base before you start your trip.  If your trip starts early in the morning, you may have to go the night before so that you are in base and ready to go.  The challenge is that additional time is added to your day because you have to commute into and out of your airlines crew base. Newark also happens to be in a very congested airspace system which makes it susceptible to weather and long delays. Other cities in the United Airlines system are congested as well which is part of the job.  Most people want to avoid commuting.  I cannot think of anyone who really enjoys it.
Crash Pads
Along with commuting comes the need for a place to stay if you have a early show or a late return.  You will not always people to bid trips that are "commutable" This means that the trip lines up with flights that go in and out of your city.  Almost everyone will end up spending the night in their crew base.  If you got a hotel room every time that happened, the price would increase significantly.  Hence crash pads became a popular part of airline life.  They are basically a house or apartment that has a bunch of bunk beds in them giving you a place to crash when your commute does not line up.  Its not like a big room with lots of people, but more like three or four bedrooms with three or four bunk beds in them.  Costs are usually reasonable and can be anywhere from 200-300 per month.  Sometimes the use of the kitchen is included as well as a place to sit and a tv to watch.  Food is up to you and you may be able to keep somethings in the refrigerator depending how long you are in the crash pad.  When crew members are on reserve, especially cabin crew, you can spend a lot of time in the crash pad.  Some think of it as a home away from home, but not nearly as nice.
Seniority
What is Reserve?
Reserve is an assignment in which you do not hold a regular schedule of flights.  You are on call to jump in when someone calls out sick or there is a disruption in the operation.  The more senior the base, the longer reserve is.  Some people can come right out of class in a junior base, fly reserve for a month and then get a line of flying the next month. No one I know really wants to commute to reserve.  Some do bid reserve in a base in which they live in and do not have to commute.  This is a strategy move for people who know the system and can figure out how not to work as much.
The whole idea is to get as senior as possible in base.  The more seniority the better the quality of life.  The better quality of life is having more days off and flying the trips that you enjoy flying.
Do certain crew bases have certain kind of flights?
Each base generally has a mixture of different kinds of flying. Some crew bases have long haul flying as well as short haul flying. These are commonly called routes and in the beginning of your career, it is nothing to really focus on.  Some flight attendants prefer to do international flying.  They find a city pairing that they enjoy or a city that becomes a favorite place to go.  A lot of it becomes about finding good food.  In our opinion good food can make or break a trip anywhere.  So can a good hotel room with a comfortable bed and decent internet.  These are quickly becoming the things that flight attendants look for.  Some may have an affinity for the beach or good shopping while others that are new to United get the not so nice layovers that are not popular with more senior crews.
Is this the Same thing as service?
Service is divided up into basically coach, business class and first class service. Each airline may have a different name for these but they are all basically the same.  Coach seats are kind of the bottom of the barrel seating and business class are nicer than coach.  First class is the best and usually has significantly better service and food.
Domestic and International flying.
Domestic flying means you tend to stay in the lower 48 states of the USA plus parts of the Caribbean.  International flying is longer in duration of the flight and also tends to have longer layovers.  Chances are the layover in Newark is not as long or as nice as the layover in Venice.  Flight attendants quickly figure out what their favorites are and lean towards bidding those trips if they can hold them.
Are the passengers and different for all cities?
United flight attendants do notice that they are subtle differences in the peoples behavior in certain cities.  Some cities can have more refined and polite people.  We have found that the people from the midwest tend to be more down to earth and polite than others in larger cities such as New York.  Passenger behavior is directly proportional to the ticket prices.  The lower the ticket price increases the probability of issues.  Alcohol also plays a big part in passenger behavior and varies from city to city.  This is probably the largest headaches for flight attendants today. (But we will save that for another article)
United Airlines Fleet
Currently United airlines operates a very diverse fleet. The aircraft are listed as follows:
B737-700, B737-800, B737-900, B737 Max 9, B 757-200, B757-300, B767-300ER, B767-400ER, B777-200, B777-300ER, B787-8, B787-9, B787-10, A319, A320, A350 on order.
United Airlines Crew Bases:
Cleveland (CLE), Denver (DEN), Newark (EWR), Washington Dulles (IAD), Houston (IAH), Los Angeles (LAX), LaGuardia (LGA), San Francisco (SFO) and Chicago (ORD).
FAQ's
What are the junior flight attendant crew domiciles?
Newark, San Francisco and Chicago are some of the most junior bases. These cities also have a higher cost of living.  If your goal is to not commute, then living in base is your option.  If your base city (SFO for example) is expensive, it can almost eat up your entire first year salary
Is it hard to get hired as a United flight attendant?
See this article for an in depth explanation for hiring requirements at United Airlines
Does United have a flight attendant union?
Yes, Most times you will get all the United union information your first week in United's training class.
Does United Airlines buy their flight attendants their uniform?
Uniform costs vary with different airlines. Each airline business model is different and changes frequently. You will be informed of all costs and fittings the first week of class.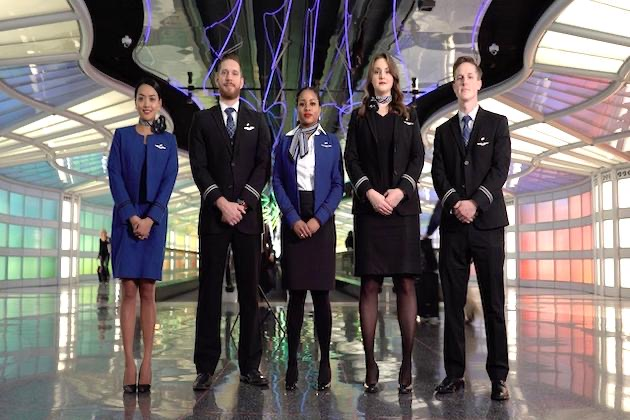 Do you have any interview tips for applying to be a flight attendant at United?
Is being a flight attendant a good job at United? How does it compare to other airlines?
Flight Attendant Salary Comparison
How do you choose?
You can choose the best business opportunity for your employment based on many factors. Some flight attendants look at the different types of aircraft flown as well as crew bases offered. Your mileage may vary.
United Airlines Perks
A common question would be are there any perks that have any weight from one flight attendant base to another? The answer would be to look at the flying and routes that those bases tend to specialize in. Some bases that do a lot of international flying have a need for what is called LOD cabin crew. LOD stands for language of destination. Having a crew member on board that speaks the local language is a huge plus for the airline because it removes the language barrier that may arise during the flight. Common languages would be Spanish and French, but if you happen to speak a different more unusual language you will be compensated more per hour for your language skills. Chinese or Japanese would be two very good examples of LOD languages. Greek, Italian and other European languages are also in demand.
There is another small perk in your salary that is called per diem. Per diem is a small hourly wage that you earn when your trip begins and ends when the trip ends. It runs continuously 24 hours giving you a bit extra in your paycheck. The purpose of per diem is to give a small allowance to accommodate the expenses you can incur from traveling such as food and tips.
Position titles such as Lead or Steward are also slightly higher paying hourly perks that get added onto your pay per trip. If you are the number one flight attendant, or the lead, you will get a small increase in pay for that particular trip in which you operate in that capacity.
Nights and International pay both have another small increase in pay or an adjustment to the trip (pairing) pay. International pay is considered an override as well as working at night. Although most airlines are different, you will have to see the particulars contract information for these details. The idea is, if you fly at night you get a tad more, the same goes for pilots as well.
Pay also increase per year per the contract agreement that the airline has with the flight attendant union group. Every year your pay increases which can give you something to plan for when you want to figure out your life expenditures for the future. While beginning pay is somewhat lower, you can go on to expect a really nice wage over the coming years.
Another way to make more money is to simply pick up more trips. Some flight attendant crews fly the minimum and some go big and bid the maximum amount of flying their bodies can take. I know of several that are always trying to pick up more flying so that their paychecks are as large as possible. While this may sound like a tiring philosophy, you may want to think about your 401K and the contributions that your company may make to it. If your 401K company contribution is a percentage, and many are, then the more you make the higher the amount they will contribute. This is the name of the game early in your career since that money saved will have a longer chance of compounding and giving you the maximum return. Its smart to think long term in this regard because this is a career. If you are single and have no strings tying you to going home each day, then it can be a huge bonus to fly as much as possible and build a bigger paycheck as well as a retirement foundation. The only negative would be if you are on reserve the first year or so and are not allowed to pick up extra flying. But even then if you are on reserve and you go above the minimum limit for reserve you will get the additional hours that you have flown for the month. Long story short is that you should work as much as you can stomach in the early years to maximize the perks of the industry.
The last perk can be some sort of specialty program that your airline promotes that gives the employees incentive to make extra money. A common promotion would be a credit card promotion that the airline teams up with that gives you a certain amount per person that you get to sign up for the card. It may not sound like much but I have seen one flight attendant make an extra $40,000 in one year because she was good at sales and hustled.
Here is what flight attendants use or buy for work or while working.
Sometimes you can look at what Flight Attendants buy to either work with or as gifts. Below is some really good examples of some of the luggage tags that help them differentiate their bag from the rest of the crew or passengers.
United Airlines Crew Base Luggage Tags
If you work for United Airlines you may want to look at these airline crew base luggage tags made by our company especially for flight attendants.  They come in an assortment of colors and help you pick out your bag in a crowded room of bags that all happen to be the same color.  They also come in handy when on the plane.  There is never a shortage of passengers who pick up someone else's bag and proceed to leave with it.  A colorful luggage tag helps identify your bag as a flight attendant crew member bag and give you a fighting chance of wearing your own clothes on your layover (ha)
LaGuardia Crew Base Luggage Tag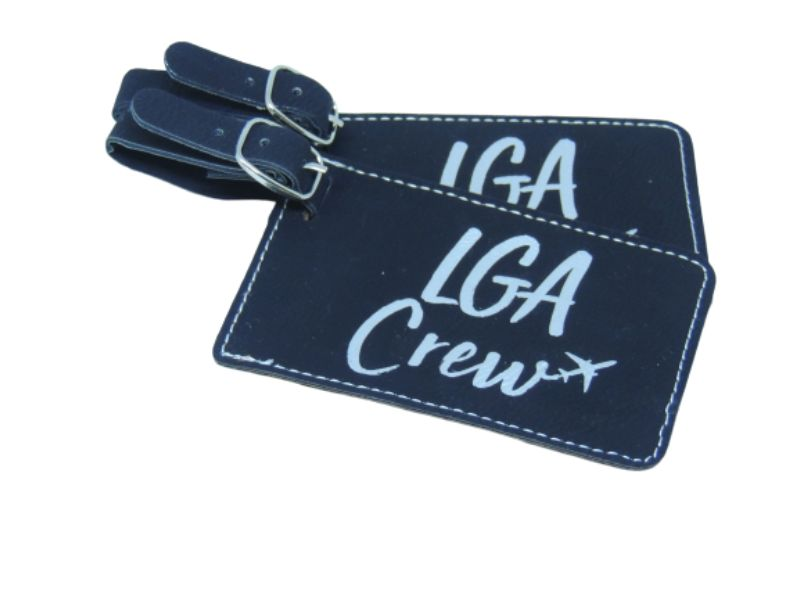 Denver Crew Base Luggage Tag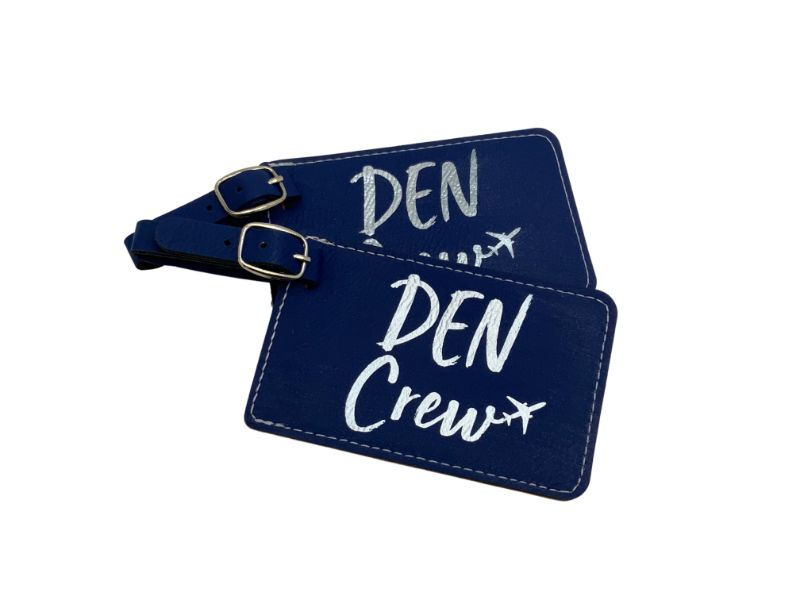 Chicago Crew Base Luggage Tag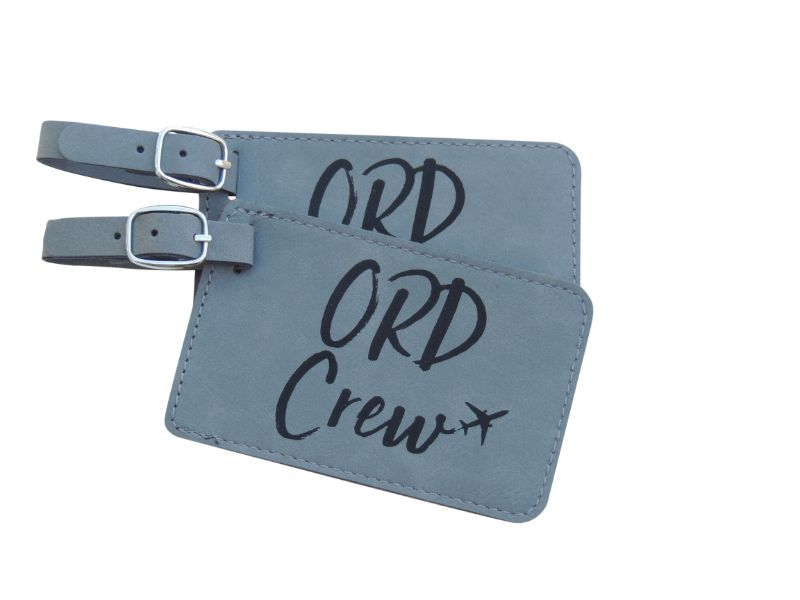 Newark Crew Base Luggage Tag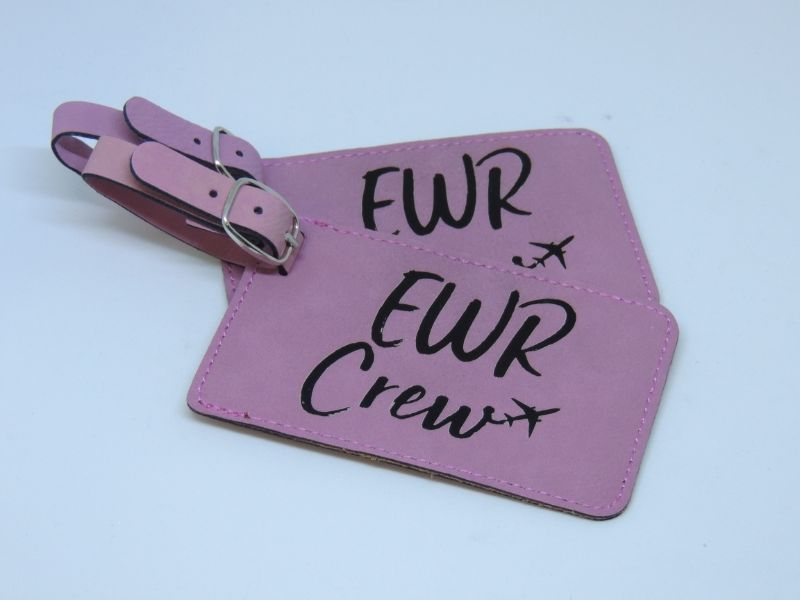 Houston Crew Base Luggage Tag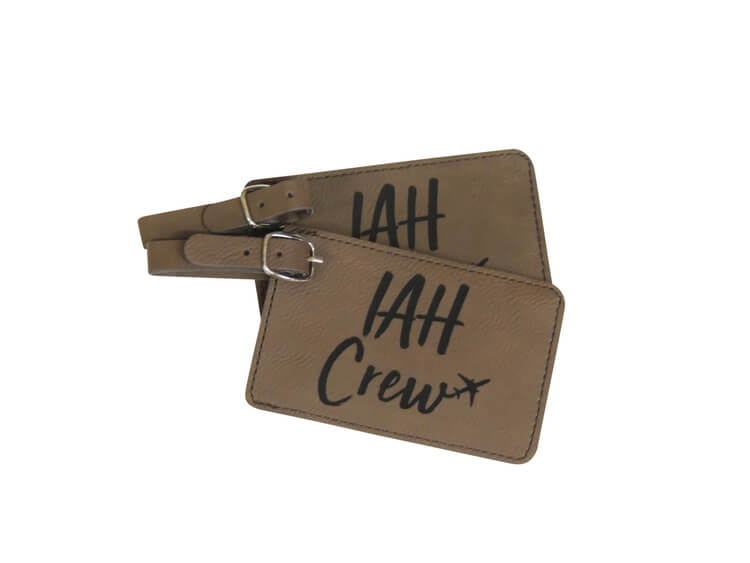 Cleveland Crew Base Luggage Tag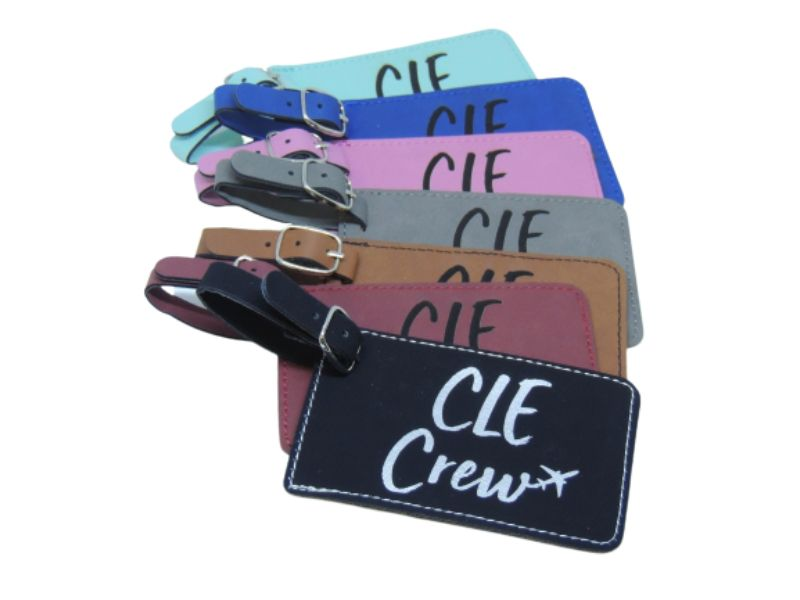 San Francisco Crew Base Luggage Tag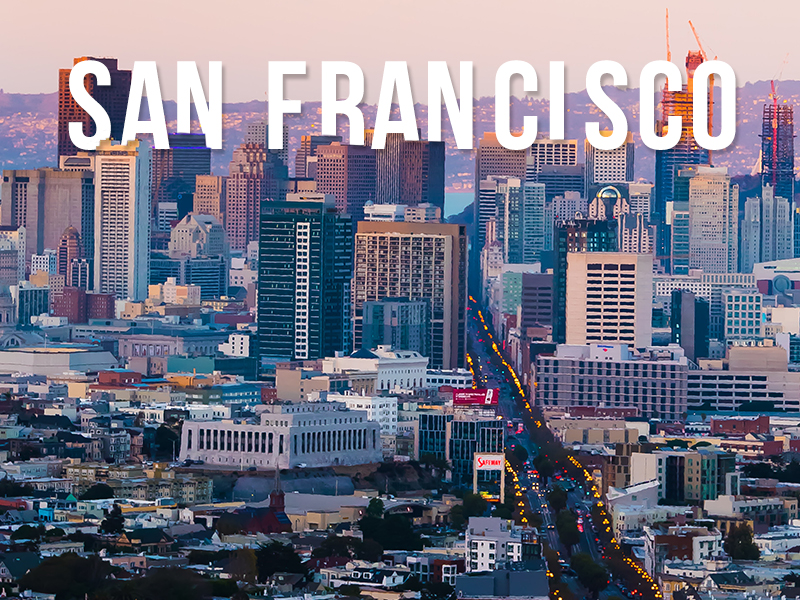 Washington Dulles Crew Base Luggage Tag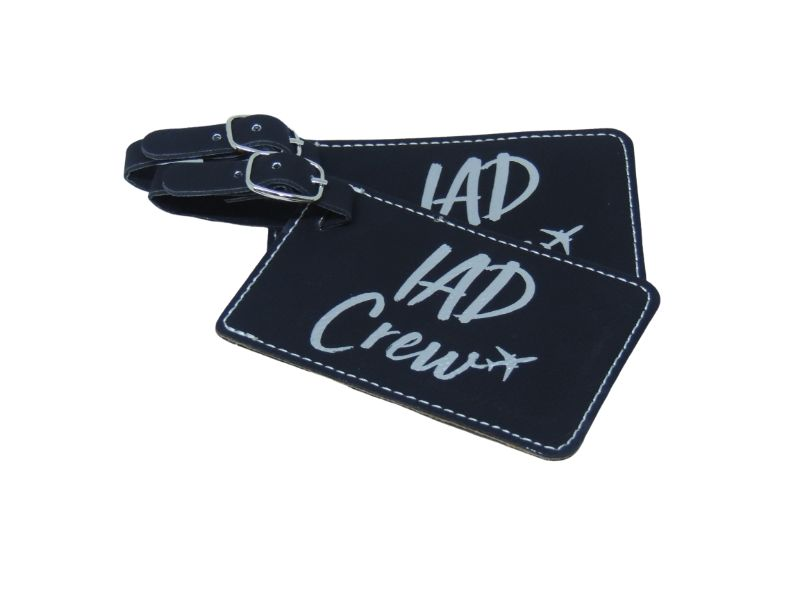 Los Angeles Crew Base Luggage Tag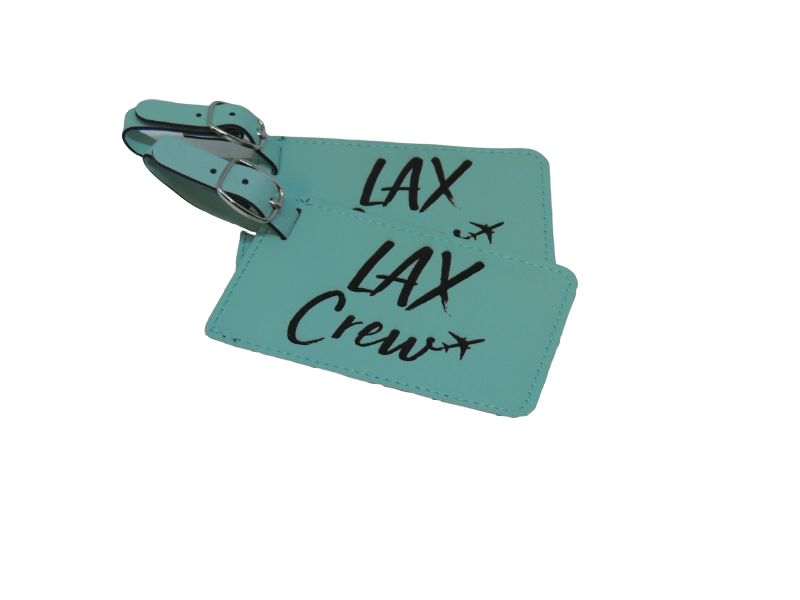 Comments
Have a comment or an idea about United as an airline company, the routes they fly, the cities they serve or any jobs or employment opportunities, please let us know below.
Looking for the perfect gift for a flight attendant in your family or at work? This always gets a thank you hug.